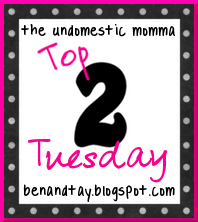 Top 2 random facts about yourself





Now.. let me elaborate.

I have a fairly extensive collection of I Love Lucy memorabilia.Mugs, books, calendars, Monopoly games (two, actually. One is still in plastic), lunch box, salt and pepper shakers, tins, puzzles, movies and DVDs out the wazoo (which includes The Lucy Show, the entire I Love Lucy series, The Lucy-Desi Comedy Hour, and several of her movies), metal signs, Barbie dolls, post cards, a pillow, an alarm clocks, casette tapes of her entire My Favorite Husband series...




*whew*


As a child, I always got Lucy items for my birthday or Christmas. My dad would purchase and save them until a special occassion. I'll always hold a special place for Lucy in my heart. Watching her shows or being reminded of her is like a sweet flashback to my childhood.



2. Nobody believes I'm half Mexican until I speak Spanish.
I'm as white as could be, but my mother taught us, her daughters, Spanish and English. We're all fluent. It's funny showing someone that I CAN speak Spanish and helping them pick up their jaws.